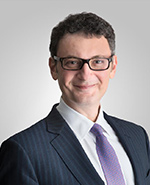 Dr. Popovitz is an internationally recognized orthopedic surgeon in the field of Arthroscopic Surgery of the Shoulder and Arthroscopic Surgery of the Knee as well as Sports Medicine.
Dr. Popovitz was born in the Ukraine and immigrated to the United States with his family when he was a child. He grew up in Queens, NY amidst very modest means. At the age of 17, he was accepted to the renowned Sophie Davis School of Biomedical Education. The Sophie Davis School of Biomedical Education is a combined B.S/M.D. program that recruits exceptional students immediately out of high school that are committed to pursuing a career in medicine.
Dr. Popovitz went on to graduate from New York Medical College. He then completed an internship in General Surgery at the Level 1 Trauma Center of St. Vincent's Hospital and Medical Center of New York. Subsequently, he proceeded to complete his Orthopedic Surgery Residency at Lenox Hill Hospital in New York City. His training included Harvard Children's Hospital in Boston, MA and Cornell Memorial Sloan-Kettering Cancer Center in New York. Afterwards, he completed a fellowship in Arthroscopic Surgery and Sports Medicine at the distinguished NYU/ Hospital for Joint Diseases.
Dr. Popovitz has had the honor of being a team physician for the U.S. Open Tennis Championships. And, he has the privilege of regularly treating Professional American Athletes, International Professional Athletes and Dancers, Competitive American & International Collegiate Level Athletes, as well as American & International Celebrities.
Dr. Popovitz was accepted as a member of the American Board of Orthopaedic Surgery. He was elected as a fellow to the American Academy of Orthopaedic Surgery. Moreover, he was honored by The Global Jewish Assistance & Relief Network for his devoted efforts and philanthropic support.
Dr. Popovitz is an Attending in the Department of Orthopedic Surgery at Lenox Hill Hospital, which holds national status in Orthopedic Surgery.The Consumer Research Council of America ranks Dr. Popovitz among the Top Surgeons, Top Orthopedic Surgeons and Top Physicians since 2004.
Dr Popovitz has the reputation of being a meticulously efficient and gifted surgeon with vast experience and excellent results. He is, particularly, approachable and puts people at ease.